Setting the default permissions for newly uploaded files is often useful as a convenience, especially when having multiple FTP users within the same site as if all files are owned by the same user, a recursive chmod can be used on the content folder. To allow all FTP users for your site to be able to modify all files, group write permissions would need to be added to these files after they are uploaded. This can usually be done after uploading by right-clicking on the file and selecting that write permissions be added. Some FTP clients can have this chmod operation automated though so that any file that is uploaded is automatically given the permissions that you desire.
Within WinSCP this option can be found under Preferences menu->Preferences… button->Transfer menu under the Set permissions option of the Upload options section as can be seen here.  The option in particular that we are concerned with is W under Group.  For more on file permissions on Cloud Sites, check out this article in the Knowledge Base.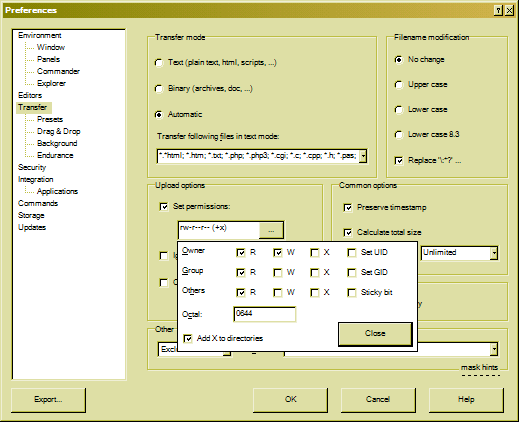 In order to avoid most difficulties with using several FTP users, I would suggest limiting an FTP user to one directory and then only using this one FTP user within this directory.